A handy and versatile new device is about to hit the market that will change the way musicians have thought about the metronome. The Soundbrenner Pulse is a wearable metronome that produces a strong and precise vibration that will allow the wearer to easily follow along with the beat. I had the opportunity to view a demonstration of the device by the CEO and cofounder, Florian Simmendinger, before the launch of their Indiegogo campaign, and I was very impressed with the features this device is capable of, all contained in a device about the size of a large watch.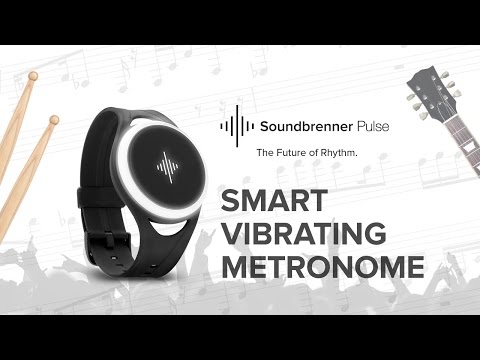 The Soundbrenner Pulse is designed to be used with the Soundbrenner free smartphone app (for iOS and Android) , and can synch via Bluetooth with up to 10 other devices, so you can use them for your entire band. The bpm's (beats per minute) can be adjusted on the app or on the device itself, and it also has a feature where you can tap the desired bpm into the device itself. It comes with a large and small band so that the device can be worn on different parts of the body. It also features a low, medium, and high level of pulsing, so you can adjust it to your needs. It has a very cool outer ring the glows and pulsates with the bpm, or that can be turned off for a more discreet look. The battery life is estimated at about 4hrs and it comes with a charging station for easy recharging. The app will also feature challenges, rewards, and levels that can be unlocked, for certain activities done with Soundbrenner Pulse, so it's great for beginning musicians and professionals alike.
Below is a link to a short video that demonstrates the usefulness of this device along with a link to the Indiegogo campaign which began March 31st, and they are hoping to raise $75,000 in 31 days. The Pulse is scheduled to start shipping this fall, but backers on Indiegogo can get in on the action early. There are limited packages for single and multiple devices as well as other packages for people wanting to stay informed. Be sure to check it out!
Soundbrenner Pulse: Wearable Device For Musicians