CRITICALLY ACCLAIMED ELECTRIC GUITAR ENVISIONED AND DESIGNED BY GRAMMY WINNER ST. VINCENT
ST. VINCENT SPOTLIGHTED ON COVER OF GUITAR WORLD WITH POLARIS WHITE SIGNATURE MODEL
PRE-SALE BEGINS MARCH 3RD
Los Angeles, CA (January 10, 2016) – Grammy award-winning artist ST. VINCENT and ERNIE BALL, premier manufacturer of musical instruments, guitar strings and accessories, have announced additions to their critically acclaimed line of St. Vincent Signature Guitars. Envisioned and designed by St. Vincent (Annie Clark) with support from the award-winning engineering team at Ernie Ball Music Man, the unique electric guitar pushes the boundaries of design with singular voice to match. As Premier Guitar put it, "Annie Clark's signature model is visually striking, but its distinctiveness is more than skin-deep. It's as bold, imaginative, and thoughtful as Clark's extraordinary guitar work." The new St. Vincent Signature Collection will be available for pre-order on March 3rd in four bold new colors: Stealth Black, Tobacco Bust, Heritage Red and Polaris White.
St. Vincent can be seen holding the Polaris White model on the cover of this month's Guitar World. "I call that one the Thin White Duke," she says. "It's a classic, elegant-looking guitar."
Click HERE for behind-the-scenes footage from the Guitar World shoot and HERE for exclusive footage of St. Vincent talking about the guitar at the Ernie Ball factory in San Luis Obispo, CA.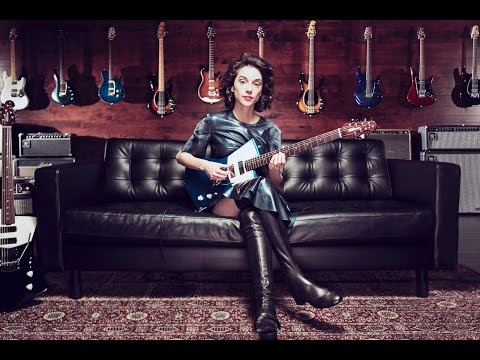 St. Vincent unveiled the guitar in summer of 2015 at a Taylor Swift concert in Los Angeles, during which she performed alongside Swift and Beck. "I've been playing it every single day, putting it through its paces and writing song after song on it," she says. "It's been the gift that keeps on giving."
Guitar Player described the quality as "nearly flawless," adding "there's only one Annie Clark, and there isn't another guitar out there like the St. Vincent. Lucky us." Guitar World lauded St. Vincent for being the latest in a line of genre-defining artists to release their own signature guitars with Ernie Ball Music Man and spotlighted the guitar with a Platinum Award. And as Esquire put it, "it looks badass."
"First off, the Ball family and I get along like a house on fire," says St. Vincent. "I have played and respected their infallible craftsmanship for years. With the Ball family's generosity, support, and expertise, I was able to put all of my years of playing, touring, and recording into a truly one-of-kind guitar. I could not be prouder of the guitar or the company."
Adds Ernie Ball CEO Sterling Ball, "You never know what will develop when you meet someone for the very first time and that first time involves diving into the design process. Simple, 'Annie meet Sterling, Sterling Meet Annie, now make her guitar vision a reality.' This happens on TV but never in real life. It did this time. I was very aware of Annie Clark's talent and artistry. I was not prepared for the instant synergy and ease in which we all worked together. I've been doing this for a long time and the Annie Clark/St Vincent collaboration/relationship is a career highlight."
Featuring an African mahogany body, Ernie Ball Music Man tremolo, gunstock oil and hand-rubbed rosewood neck and fingerboard, St. Vincent inlays, Schaller locking tuners, 5-way pick up selector with custom configuration and 3-mini humbuckers, the guitar also comes complete with Ernie Ball Regular Slinky guitar strings and will retail for $1899. January 25th sees the release of the Sterling By Music Man model, which is available in Classic Blue (Vincent Blue) for $599. Fans can sign up to receive additional info on the Ernie Ball Music Man site by clicking HERE.
ABOUT ST. VINCENT
Musician and songwriter Annie Clark-aka St. Vincent-is one of the most distinctive artistic voices and arrestingly original guitarists of her generation. Her recent album, the self-titled St. Vincent, won her "album of the year" designations from the NME, the Guardian, and Entertainment Weekly and the Grammy for Best Alternative Album. An incredible live performer, Clark has been heralded as "the first truly 21st century guitar hero" by Guitar World magazine, and is constantly pushing the boundaries of today's musical landscape.
ABOUT ERNIE BALL
Ernie Ball was the first to offer rock strings with the creation of Slinkys®, the iconic light-gauge electric guitar strings that are widely revered by hundreds of guitar greats, including Jimi Hendrix, Eric Clapton, Keith Richards, Jimmy Page, The Edge and John Mayer. Ernie Ball further revolutionized the market by offering guitarists Custom-Gauge single strings. With its founder's dedication to preserving the musician's playing experience and delivering superior sound quality through the development of new products, the family-run company has been on a continued pursuit of innovation. Throughout the last decade, Ernie Ball has built on this foundation to develop strings that are uniquely superior and different, and as a result created Cobalt and M-Steel Strings. Ernie Ball Music Man is a division of Ernie Ball that manufactures an extensive collection of guitars, basses and amps as well as signature instruments designed by world-class musicians. Originally founded in 1974, Music Man built its name leading an industry revolution and introducing active electronics on its production instruments. As part of the team during the 70's, Ernie Ball CEO Sterling Ball played an important role in the design and development of the iconic Stingray basses. Officially purchasing the company in 1984, Sterling, joined later by his sons Scott and Brian, has built a team of dedicated professionals who collectively share a common goal: building the highest level of hand-crafted instruments available. Shipping to more than 135 countries from the Central Coast of California, the brand continues to expand its reach worldwide based on the strict quality standards, innovative design and the finest craftsmanship it is known for.Ernie Ball Music Man guitars and basses are made for musicians all over the world and have been played by some of history's greatest musicians including Steve Morse, John Petrucci, Eddie Van Halen, John Fogerty, Tom Hamilton, Cliff Williams, and John Deacon. http://www.ernieball.com/
Source: Press Release