VOX will be displaying their newest line of products at the Korg USA booth #6440, Hall A, at Winter NAMM 2017.
VOX Combines Classic Amp Design With Innovative Technology in the New MV50 Amplifier, Powered by Nutube Technology
The ultimate modern amp, designed with an emphasis on analog, VOX's MV50 combines classic amplifier design with new and innovative production techniques (Nutube) to produce a miniature amplifier with truly monstrous sound. Boasting an incredible 50 watts of power, this one-pound package serves up serious guitar tone that's reminiscent of your favorite old tube amps. With speaker & line/headphone outputs, available in AC, Clean and Rock models, the MV50 is perfect for the stage, at home, or in the studio for direct recording.
Nutube is a revolutionary new vacuum tube that has been met with much acclaim and adoration since its introduction in 2015. The MV50's unique analog preamp design incorporates Nutube to achieve authentic tube amp tone. VOX engineers took full advantage of this incredible new tube technology to design a true, low power, low voltage miniature amplifier. From warm, natural cleans to dynamic overdrives, this power amp has been engineered to respond to the nuances of the user's guitar and, of course, technique.
With a retro-chic design, a mirror-finish front and VU meter, the MV50 is so compact that at first glance it looks like an accessory, yet the sound it produces is massive. The MV50 is a perfect match for VOX's new speaker cabinet, the BC108. The BC108 is a small cabinet featuring an 8-inch speaker. With its carefully selected speaker and a meticulously designed semi-open-backed structure, it delivers a strong, punchy sound.
Available in the Spring of 2017, the MV50's will be $199.99, and the BC108 for $99.99. Both will be on display at the Korg USA Inc. booth #6440 in Hall A. www.voxamps.com
Video: The VOX MV50 – A revolutionary new amplifier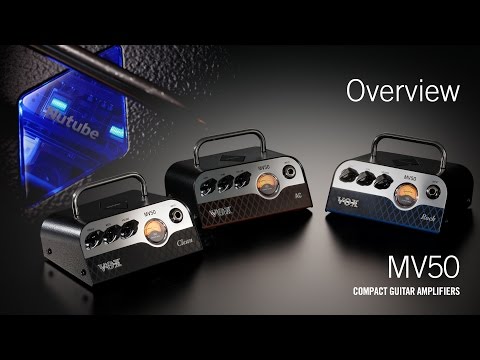 VOX Introduces New Additions to Popular amPlug Series
with amPlug 2- Clean, Blues and Lead
amPlug devices, VOX's popular and handy headphone amps have been making it easy for guitarists to practice in private for over 10 years. Now with three new models, including Clean, Blues & Lead, there are even more options for amPlug. Each model provides three distinct voices for a wide range of classic tones, as well as nine selectable effects with three types of Chorus, Delay, and Reverb. A foldable plug mechanism that rotates 180 degrees and an auto power-off function with 17 hours of battery life are additional features that contribute significantly to improved convenience and ease of use.
Available in the Spring of 2017 for $39.99, VOX's new amPlug 2's will be on display at the Korg USA Inc booth #6440. www.voxamps.com.
Video: Three new additions to the VOX amPlug 2 family – Clean, Blues & Lead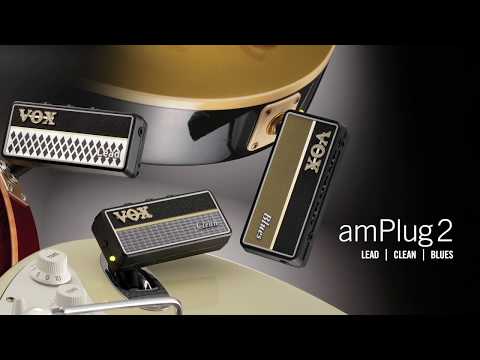 VOX Impresses with Limited Edition AC Series
in a Chic White Bronco Tolex
VOX'S coveted Custom Series amplifiers are synonymous with remarkable tone. With the introduction of this Limited Edition AC Series, VOX's sense of design has taken inspiration from the sophisticated mod aesthetic and custom color models of the 60's.
The White Bronco finish and cream colored knobs will capture the eyes of the most discerning and style conscious guitarists. The classic Diamond grille cloth beautifully offsets the vivid White hue of these amplifiers. The AC15, AC30 and V212C offer Celestion G12M Creamback Speakers.
Available in the Spring of 2017 in the following models:
AC4C112-WB-$379.99 MAP
AC10C1-WB-$449.99 MAP
AC15C1-WB-$629.99 MAP
AC30C2-WB-$1099.99 MAP
The heads and cabs will be sold in sets only:
AC15CH-WB & V212C-WB-$1099.98 MAP
AC30CH-WB & V212C-WB-$1349.99 MAP
For more information, visit www.voxamps.com