Taylor Guitars introduced several new models for 2017 at the Winter NAMM Show in Anaheim, California last week and we're especially excited about the new Academy Series and the GS Mini Bass. Master Guitar Builder Andy Powers chatted with us while at the show and said, "As guitar builders and musicians, one of the things that is important to us is we want people to be playing music. Music is way too important to leave it up to the professionals so we want people to be able to incorporate music making as part of their lifestyle. So we wanted to build instruments that would hopefully break down some of those barriers to entry."
The Academy Series does just that. Powers said it's "designed with everything you need and nothing you don't." Built with comfort, quality and affordability in mind, Powers added that "it's comfortable to hold, comfortable to play, and sounds good in the hands of someone who is just being introduced to the instrument."
The Academy Series is priced starting from $500 and up. According to Powers, "They're not super expensive, not too precious, and they're durable. It's all of what you need to incorporate guitar playing as part of your life."
Another one of their fine instruments that we're excited about as an addition to Taylor's Mini Series, is the GS Mini Bass. Powers explained "within the same type of philosophy of wanting to foster music making, we're introducing the GS Mini Bass. It's a new kind of bass instrument where you have a very, very short scale. It's a very approachable and very ergonomically friendly instrument for somebody that's just picking it up. It's the guitar player's bass. The perfect bass for a kid to play or as a travel bass for a seasoned musician."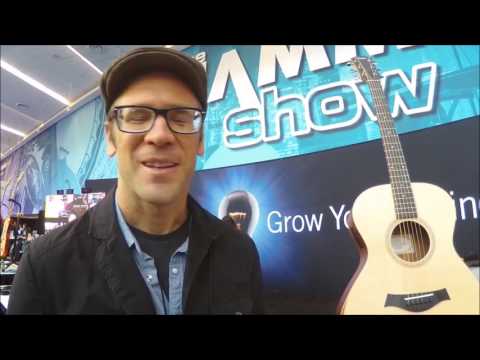 The Academy Series
Taylor's new, full-featured acoustic series was designed to make a great playing experience as inviting and affordable as possible. The series will inspired everyone from beginners to seasoned players looking for a high-quality guitar at a great price. Player-friendly features include a 24-7/8" scale length and an armrest for enhanced comfort.
Back/side: Layered sapele
Top: Solid Sitkka spruce (steel-string) / Lutz spruce (nylon)
Armrest: Mahogany
Neck: Sapele, patented Taylor design, 1-11/16" nut width (steel string) or 1-3/4" (nylon)
Fretboard: Genuine ebony
Optional Electronics: Taylor ES-B
Case: Taylor gig bag
Models:
-Dreadnought Academy 10 / Academy 10e
-Grand Concert Academy 12 / Academy 12e
-Nylon-string Grand Concert (12-fret) Academy 12-N / Academy 12e-N
Academy Series Guitar Design Philosophy with
Andy Powers – Taylor Guitars 2017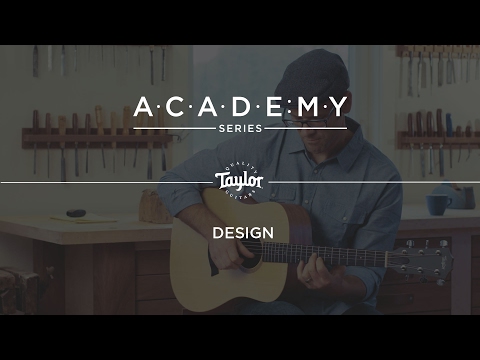 The GS Mini Bass
Custom nylon-core strings and Taylor-patented dual-prong bridge pins helped spawn this fun-to-play small-scale acoustic bass. The four-string addition to our popular GS Mini family features the same 23-1/2" scale length. Whether you're a bass player craving a compact acoustic option or a guitar player who'd love to have one for writing, recording demos or jamming with friends, this makes an accessible and inspiring bass option
Back/sides: Layered sapele
Top: Solid Sitka spruce
Nut Width: 1 – 11/16"
Strings: Nylon-core D'Addario Custom Light w/ EXP-coated phosphor bronze wrap wire
Electronics: ES-B
Case: GS Mini Hard Bag
GS Mini Bass Guitar Design Philosophy with Andy Powers – Taylor Guitars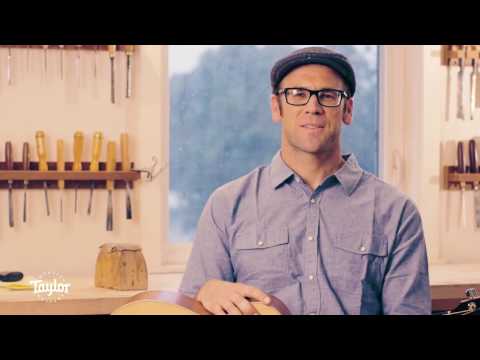 800 Deluxe Series
This ultra -refined rendition of our flagship 800 series adds to the array of tone-enhancing refinements introduced in 2014 with a trio of high-performance features:
-A new radius-style armrest (rosewood/maple)
-Adirondack spruce bracing
-Gotch 510 tuners
Models:
-810e DLX
-812ce 12-Fret DLX
-814ce DLX
Koa-Top 200 Deluxe Models
A koa-top Grant Auditorium 224ce-K DLX and Dreadnought 220ce-K DLX join the 200 Deluxe series. The solid kopa top feature a shaded edgebburst. Other specs include layered koa back/sides, a full-gloss body. Black binding, Italaian acrylic small diamond inlays, faux pearl "fishbone" rosette, ES2 electronics, and a Taylor hardshell case.
Layered Koa 200 Series
The 200 series sports an aesthetic and tonal upgrade with layered oa back and sides and an updated bracing scheme to yield a louder, fuller sound. Choose from the Grand Auditorium steel-string 214ce and nylon-string 214ce-N.
Layered Walnut 100 Series
The 100 Series debuts layered walnut back and sides (paired with a solid spruce top) and internal bracing refinements to boost the tonal output. The series includes the new nylon-string 114ce-N,, plus the best-selling 12-string in the industry, the Dreadnought 150e.
GS Mini-e Walnut
Taylor Guitars replaced their layered rosewood model with a new layered walnut edition, featuring a solid Sitka spruce top and ES2 electronics.
T5z Classic Deluxe
This deluxe edition of their mahogany-top T5z Classic features an upgrade to an all-gloss body and shaded edgeburst (entire guitar).
For more information, visit Taylor Guitars' website HERE.