The mighty uke was again fully represented this year at NAMM by many manufacturers in all the usual shapes, sizes and gorgeous designs. Kala Brand Music was onsite at Media Day which is held the day before NAMM and is just a teaser into what will be shown at manufacturers' booths during the NAMM Show.
Jason Villa, Kala's Manufacturing Manager, highlighted four of their ukuleles for us from their Luthier Elite series. Jason is "proud of these ukuleles, proud of the design process we went through to do them, and we're pleased to be offering these instruments, and pleased to be building instruments in Petaluma, California."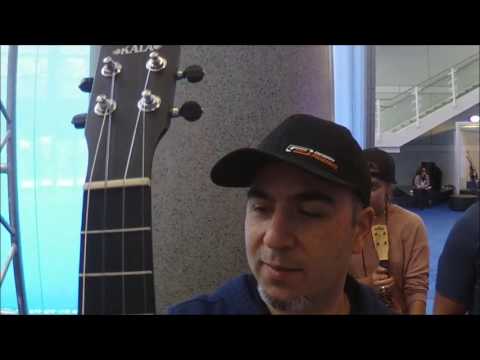 First up was the Parquetry Tenor which has a parquet wood design utilizing left over scrap Koa reducing waste. It's resembles parquet flooring and Jason describes it "as almost like a puzzle piece pattern, swirl rosette, maple binding, ebony fingerboard, ebony bridge, and parquetry head plate." Concerning tone, Jason said "sonically this instrument has a beautiful tone, very warm, a lot of presence."
The second ukulele Jason showcased was the Salt & Pepper Doghair with it's beautiful finish. Made from Honduran Mahogany, the instrument goes through an unconventional finishing process. Jason explained that Kala's Finish Supervisor, Jordan, is very creative and came up with the process of sanding back the grain where it then receives a black color spray and then a white filler to fill the grains creating the salt and pepper appearance. It is then sealed and glossed to create the sleek appearance. To add to the beauty of this instrument is the white binding and ebony bridge, fingerboard and head plate. It reminds Jason of a "spaceship flying through the galaxy."
Another of their custom pieces is the Tequila Sunrise. It's a mahogany instrument based on the Gibson Les Paul sunburst design featuring a sunburst finish on the front and headstock.
Last on display is a new custom ukulele designed by Kala artist and ukulele virtuoso, Corey Fujimoto, and Kala's custom shop builder, Liam Jenkins, the Kala Super Tenor Ukulele. This instrument is an 18" tenor which is one inch longer than the standard allowing for extra frets, features a right angle cutaway, spruce top, rosewood back and sides, ebony fingerboard, and Fender tuning machines with gears inside giving it a nice gear ratio.
(Credit: Corey Fujimoto Facebook Page)
To learn more, visit their site at www.kalabrand.com.