New line of virtual instruments for guitarists to be released
at Fishman NAMM booth C-4340
EastWest, the most awarded virtual instrument developer has teamed up with Fishman, maker of the multi-award winning TriplePlay Wireless MIDI Guitar Controller, to develop a series of virtual instruments specifically for MIDI guitarists.
The new EastWest MIDI Guitar Instruments series will differ from the current EastWest virtual sounds, which are optimized for keyboards, in that they will be selected and designed to take advantage of the complex and unique waveforms produced by a guitar's vibrating strings. Initial sound offerings will cover a wide range of musical styles and instrument families.
Fishman founder and president, Larry Fishman states, "The opportunity of collaborating with EastWest is very exciting for not only our two companies, but also for guitarists who are looking to explore new avenues of creativity and sound.
"EastWest virtual instruments are the choice of top music, film, TV, and gaming performers and composers. I look forward to working with the EastWest team to expand the TriplePlay orbit of third-party software supporters by creating a collection of guitar-optimized, easily accessed and compatible sound libraries that will build on the already formidable list of TriplePlay features and benefits."
Experience the EastWest Midi Guitar Instruments/Triple Play at NAMM 2017 at the Fishman booth C-4340! The first EastWest MIDI Guitar collection will be demonstrated in the Fishman booth (C-4340) at NAMM and released shortly after. The first releases will include a selection of instruments of every type that will be augmented by product expansions throughout 2017. Pricing will be announced prior to release.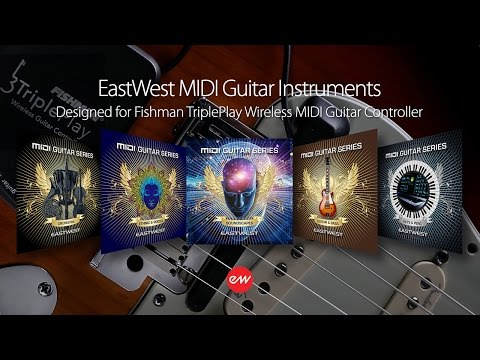 About EastWest:
EastWest (www. soundsonline.com) has been dedicated to perpetual innovation and uncompromising quality of Sample Libraries and Virtual Instruments for more than 29 years, setting the industry standard as the most critically acclaimed sound developer. Find more about EastWest at soundsonline.com.
About Fishman:
Fishman is dedicated to helping musicians of all styles achieve the truest sound possible wherever and whenever they plug in. Our ongoing commitment to professional sound and quality has helped our company grow to become an industry leader in amplification, effects, and pickups for acoustic and electric instruments, MIDI control, and other product categories.
The loyalty from our extended family of players, technicians, repair professionals, and instrument manufacturers, is really a result of our loyalty toward them. This bond goes beyond product alone, but also extends to our customer service, interaction and support.
After 36 years, you still have our promise that Fishman will always endeavor to be the best at what we do, but most importantly… to make you sound your absolute best. More information at www.fishman.com.
Source: Press Release