Day 3 at NAMM continued with more new gear and seeing more friends, hearing more music, and getting sorer feet by the minute! But it was all worth it! All of the NAMM U and TEC Tracks Sessions had lines to get in on Saturday and at full capacity, so I made use of my time seeing whatever I could, including some live shows and more awesome gear.
Through the main hall, I headed toward Big Joe Stompbox Company to see my friend Edward Tree demonstrating all of the products that he endorses. Founders Paul and David Christian were there promoting the new Power Box Lithium, which is a portable, small footprint rechargeable 9v 500ma Lithium Battery based power supply, that is capable of powering multiple pedals, pedal boards and high current draw guitar effects.
Besides this groundbreaking new product, their new Tremolo pedal is an improvement on a classic. That says a lot about Big Joe. They're doing a lot more than just making great overdrive pedals.
In the hallway I ran into James May from Audio Spockets who was heading outside to hear Joe Kye and his band, Joseph in The Well. Joe is a violinist/guitarist/mandolin player who uses extensive looping in his show and sings like a bird. On upright bass, he had Casey Lipka and on percussion Brijesh Pandya, a power packed rhythm section. The music has classical undertones and indie overtones, with so many layers.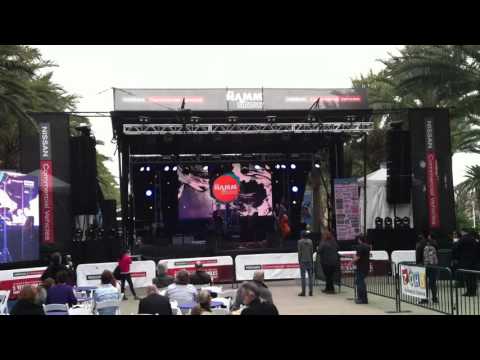 More about Joe and the band HERE.

Casey Lipka on upright bass with Joe In the Well at 2016 Winter NAMM
The Sennheiser Booth this year had a variety of artists performing, many of them women! Nina Storey was back this year as was Dilana, who is best known as the runner-up contestant on the CBS reality television show Rock Star: Supernova. New artists at Sennheiser included Raining Jane, Marina V and Katie Cole. Thank you to Sennheiser for representing women at NAMM!
Here is a little clip of Mona and Chaska from Raining Jane at another location performing as "Twins."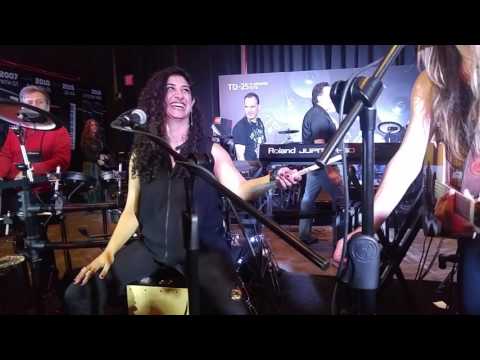 Raining Jane performing at the 2016 She Rocks Awards.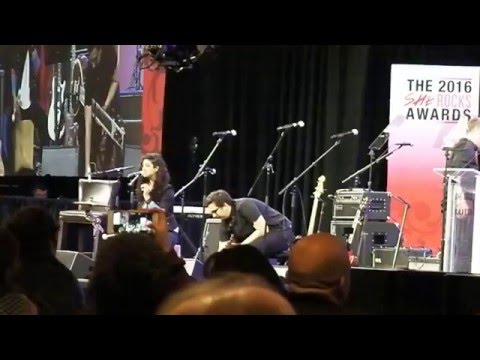 Downstairs in Hall E one can find many gems. One of them is Q-Parts, Inc. represented by Vivian Molina, who showed me all of the actual gems for one's guitar. From gemstone volume and tone controls to skulls that you can replace your guitar controls with, they have everything a girl (or a guy!) could want to bling up that axe!
Their new "Aged Collection" includes kits for all of the hardware on your guitar. These kits are matched sets of tuning pegs, pickup covers, pick guards and more that are aged to make your new guitar look vintage. (I bought "diamond" and black control knobs for my hot pink Charvel!)
HP-Guitars (.com) designed and built in France by Henri Polizzi, is a small guitar company with products that have a big sound. Henri's guitars are beautiful and the what one can get from them is truly amazing: the sounds of so may different kinds of guitars and guitar heroes all in one axe. Henri has worked hard on his products, even bringing in famous artists to help with some of the custom artwork, and is particular with the entire design from the beginning through the end result of each and every guitar.
Henri Polizzi of HP Guitars at 2016 Winter NAMM
I caught Israeli guitarist Shian Hirsch (she performs on the Late Show in Israel) seriously checking out one of Henri's new designs.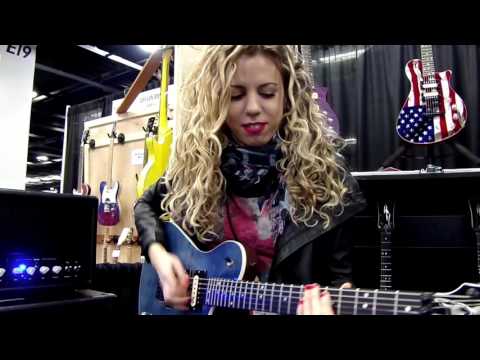 When the convention closes every day, 6pm Thursday through Saturday and 5pm on Sunday, it actually continues outside on the large stage as well as in the various hotels that surround the Anaheim Convention Center with parties, events, live music, meet and greets, and more. I was able to head over to the Marriott to catch the band Venice, whom I had seen a lot in the late '80s and '90s in Los Angeles. The four main members are cousins and brothers, and two of the brothers are the younger brothers of the Lennon Sisters. Their harmonies still give me chills after all of these years!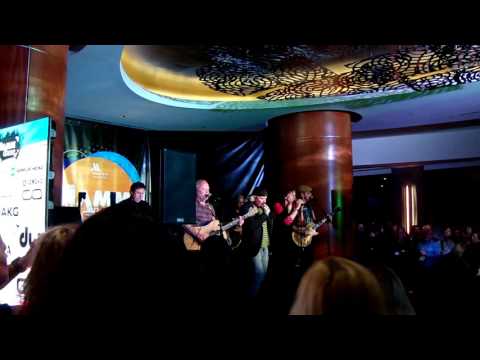 Bass player Mark Harris and I played in Charlie Sexton's band years ago and the three of us were able to reconnect after all of those years! What a fantastic way to end Saturday night at NAMM. And sadly only one day to go.