Day 2 of NAMM 2016 started out with keynote speaker, Tony Brown, at the TEC Tracks Sessions, with an informative talk about his career and how important it is to take advantage of opportunities. Often credited as the founding father of the Americana country movement, Tony took us from his early days playing keyboards for Elvis and Emmylou Harris to becoming an A&R guy for labels in Nashville then moving all of the way to producing musicians from Reba McEntire, Tricia Yearwood and more recently, Cyndi Lauper! He entertained us with his stories while teaching us how to dive into situations and just believe in yourself. His words about his friends saying "You are so lucky" when he would get a gig with a famous musician or singer, really hit me. He said luck is just the combination of preparedness plus opportunity. He made us all feel confident walking out to tackle the day! More about Tony here: http://www.tonybrownenterprises.com Thanks to NAMM, the TEC Tracks Sessions have been valuable to many different types of conference attendees.
The Roland booth was close to where Tony's hour long event took place, so I went in and found Sarah Vee and Jordan West working as clinicians for the company, demonstrating some of the new pedals, and sounding great! Sarah, playing guitar and singing through the Boss Vocoder VO1 and the BB2 Harmonizer, shows what these new effects boxes can actually do, while Jordan West plays along on the Roland El Cajon, a whole drum kit in one. These chicks ROCK! Check them out and hear all about these new items available at Roland and Boss. http://www.rolandus.com Check out this YouTube video I found online from NAMM 2016: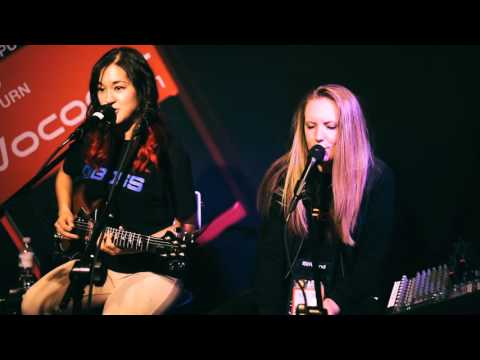 Sister act SHEL which stands for Sara, Hannah, Eva and Lizza – floored everyone at the DPA Mic booth every day at NAMM. The sisters range from 22-28, play a bunch of different instruments, and are delightful to watch! The mic system that they use include wired and wireless, and they have small instrument mics which come with your choice of a clip for whatever kind of instrument you may need: mandolin, violin, accordion or other difficult to mic instrument! Besides playing their original blue-grass-ish tunes with 4 part harmonies, they also spoke about the product they were endorsing, how the clarity is the best for what they do, and how thrilled they were to have performed at NAMM again. Originally from Colorado, they spend half of their time in Nashville — when they aren't touring!
A little bit of them live: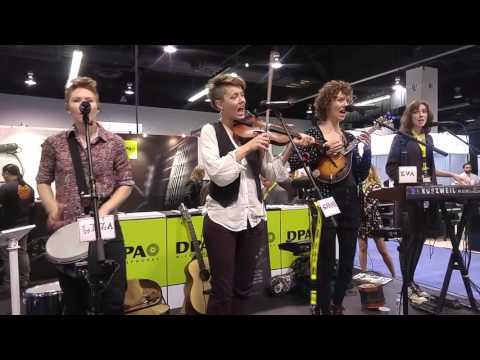 And a close up on Sara and Eva with their fiddle and mandolin using the clip on instrument mics.
RELATED STORY: SHEL's Eva and Sarah Holbrook discuss
the perfect chemistry behind The Laboratory Sessions
As I entered the Luna Guitar booth, it was exciting to see their partners, Dean Guitars and DDrums also in the room. This was a very busy booth all throughout the entire 4 days of NAMM and I was able to spend quite a bit of time there trying out guitars and seeing everything that was going on, from performances to meet and greet/signings.
I was able to catch Vicki Genfan warming up for her show on the stage at Luna, and talk to her about her Vicki Genfan Signature guitar! As you can see, her style is beautiful!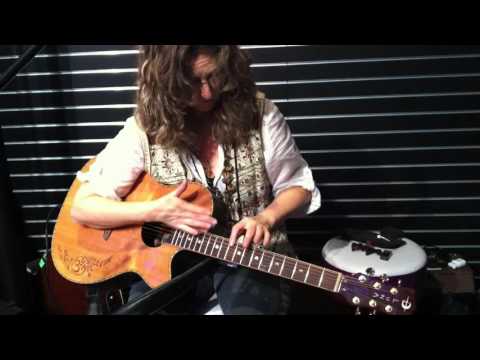 Vicki Genfan warms up using her Luna signature guitar, NAMM 2016
RELATED STORY: Tuning in with Vicki Genfan
Dennis Stafford, marketing director for Luna, introduced me to their new line of guitars called Wabi Sabi, which is a Japanese term describing "the aesthetic as one of beauty that is imperfect, impermanent, and incomplete." Luna takes the single solid piece of wood used to make guitars, that has slight imperfections preventing a "perfect" guitar, and makes a gorgeous looking and sounding product from that wood. I was really impressed with the 12 string Wabi Sabi and was filmed by Don Adkins, Jr., playing my song "Back To Ohio." Listen to the tone of that guitar! When I hit the first chord, we all gasped. Amazing tone, brilliant, rich! < https://youtu.be/MazS93qiK6Y >

Dennis Stafford of Luna Guitars Discussing the Wabi Sabi Series Acoustic Guitar to Che Zuro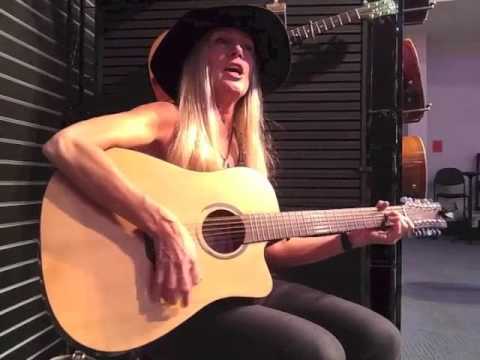 Che Zuro performs her song "Back to Ohio" on Luna Guitars 12-string Wabi Sabi acoustic guitar
A new product, called Tone Dexter, was designed by engineer/musician James May who is always looking to find ways to make his acoustic guitar sound better live. He has come up with this new product which you use to mic your guitar, while the computer in the box saves the sound. When you then use it, the sound that comes out mixes the pick-up sound along with how the guitar actually sounds to the ear when you are right in front of the player. You may also use lots of different mics, for different guitar sounds, and use the different samples during your show. J.P. Durand and Liza Carbé of the band Incendio have been beta testing this box and were demonstrating it in Hall E. They had headphones for us to listen to the guitar through just the pick-up, and then flip the switch to hear how this new product processes the mixed sounds through the Tone Dexter. WOW! It sounded clear with all of the ambiance of the wood of the guitar and the vibrations of the strings.
Liza studied classical guitar and has toured with the likes of such diverse artists as Vixen, Leon Patillo and Lindsey Buckingham. Here she is playing for us at the Audio Sprockets booth.
Stay tuned for Part 3 – Day 3 of NAMM 2016!