Using a great word coined by gal pal Angel Hanson, CMP, CMM – Event Marketing Manager for Microsoft who hosts a killer party every year, the SheNAMMigans that went on at this year's NAMM show in Anaheim, CA, outdid themselves! There was a lot of SHE in those SheNAMMigans! I found so many women in all areas, from panelists to artists to owner/merchants, that this year really seemed as though we have become less of "woman-owned" or "female band" or "chick guitar player" and more of just "owner," "band" and "player." What a great year for us!

The first day I spent a bit of the morning at the TEC Tracks Sessions on the 2nd floor of the convention center, where attendees had choices of roundtable talks and panels about everything from sound to the new technology of recording to getting endorsements. These sessions were mostly full, some with a line outside, around the room and down the hallway, with folks wanting to get in, proving at how successful these truly are to so many different kinds of people.
The Evolution of a Producer panel that I attended that day was all about WOMEN producers, moderated by Terri Winston, who founded Women's Audio Mission (a San Francisco-based 501(c)3 nonprofit organization that is dedicated to the advancement of women in music production and the recording arts, a field in which women are critically under-represented – less than 5%.) (womensaudiomission.org) The guest producers on the panel were Sylvia Massy (Tool, Johnny Cash, Red Hot Chili Peppers,) Merrill Garbus (Tune-Yards,) and DJ Asma (M.I.A.,) who spoke about their individual journeys as artists and producers. Each woman had such great tools and advice, as well as fun and crazy stories about getting through the usual crap that woman potentially have to wade through in the entertainment business. With great empowerment, we all left this educational discussion to tackle the very loud and overwhelming rest of the NAMM show!
At the Gibson booth on the 3rd floor, I was thrilled to see so many female artists taking the stage, endorsing different Gibson guitars, both electric and acoustic. Gibson once again had their guitar bar, a large coffee level table with various guitars set up for anyone to pick up and play. Besides their reissues, they have also vamped up some of the best sellers with new finishes and major bling. Some of the featured artists performing their originals as well as favorite songs included Anahita Skye, Boh Doran and Nikki Sparks.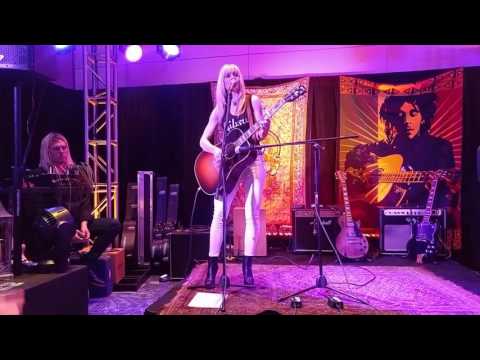 One of the most unique pieces of equipment that I saw this year at NAMM was at the Tiptonic Booth – their "Tone Tips." They have all different colors of these nail-like tips for fingerpicking and it was really great to be there during the demonstration!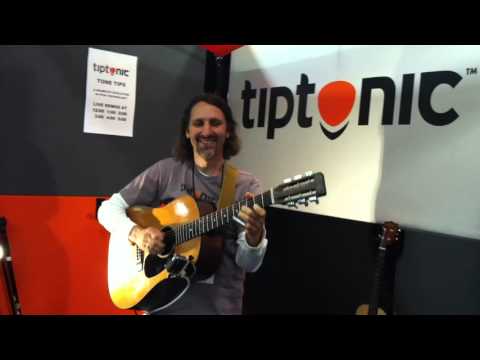 Loved that they had the video also going so you could actually see his fingers hitting the strings and what they were doing! He also showed me the crazy cool goth tips! And, Tiptonics is run by engineer and musician Christina M. West.
RELATED STORY: Christina M. West Interview – Solar Engineer, Company President & Ukulele Player
Tyler Guitars out of Southern California are designed and made by James Tyler, who is also a model train enthusiast and classic car collector! His guitars are beautiful, all hand made. This is the first time in five years that tylerguitars.com have been present at NAMM.
Finally, on Day 1 of NAMM, I came across a company, F-Pedals, that makes very small stomp boxes, which attracted me to them immediately! The effects boxes are about half of the size of the ones I presently use (mostly Boss and Ibanez) and are super lightweight yet have the power sounds of Hendrix, Angus Young and Jimmy Page! Two of the newest boxes have been co-designed by owner Francesco Sondelli and Eddie Kramer, (the "Edstortion" and the "PhaseVibe," the latter which is replacing my Ibanez Phaser AND my Boss Chorus along with having a GREAT vibrato setting!) and F-Pedals has MORE coming soon including an incredible delay (that is on my list to get as soon as production is ready!) and a tuner. Francesco is also working on designing a pedal board which will be part of a wireless system. They sounded so amazing when I tried them, that I am now one of their endorsing artists, only because I was excited at the output plus their weight and size.
Stay tuned for Part 2 of my NAMM coverage.