I first heard of Ali Handal back in 2000, when she came out with a catchy tune about her pet feline. "Indy the Cat" was so, uh, catchy, in fact, she even let Indy participate in the recording of it by adding a few "meows."
But Ali is known for more than that catchy cat tune. Inspired by Led Zeppelin's Jimmy Page, among others, Ali saw herself as wanting to be a lead guitarist. Her musical approach is so diverse that she can rock it out with the best of them, even when she slows it down.
In addition to being a DIY musician and songwriter, Ali has also written a guitar instruction book. I asked Ali about how that book has been doing, as well as other topics ranging from her cats to her experiences with the likes of Janet Jackson and The Price is Right. But I start off with a question rooted in the glory days of MTV.
GGM: First, Ali, your biography mentions on your website that during your college days, you were unhappy with the music you saw on TV. Would I take that to mean that the videos on MTV were that bad back then?
Ali: That was in reference to me being sad that I wasn't the one making music on TV. Every time I saw music on TV I'd get depressed because I wasn't following my dream of being a professional musician.
GGM: Of course, you were in several bands prior to going solo. What was your first professional gig, either solo or as a member of one of those bands?
Ali: I don't remember my first-ever professional gig, but I do remember my first gig going solo. I remember I had to get 45 minutes of music together for a solo acoustic set at Coffee Junction in Tarzana, CA. I only had a few songs at the time, so I stretched them out and included a cover song or two so I'd have a full-length show.
GGM: You had Indiana Jones in mind when you named your cat Indy after adopting him back in 1997. My personal favorite movie in that category would be Indiana Jones and the Temple of Doom [1984], chiefly due to the villain in that picture, Mola Ram. What would be your favorite Indiana Jones movie?
Ali: My favorite is the first one [Raiders of the Lost Ark, 1982] — SNAKES?!?!?! I HATE SNAKES!!!! 😉
GGM: Following up on that, was there that certain magic about Indy that inspired you to write and record your song about him back in 2000?
Ali: Yes — Indy has always been a very special cat. He was my "soul-kitty" — I had a bond with him that I don't have with my other kitties (though I love them tons).
GGM: Indy, of course, passed away last year, but what about his sister, Pumpkin, as well as any cats you have now?
Ali: Pumpkin is doing great, as is our new (old) kitty Shen. They don't get along too well, but I enjoy having two kitties in the house.
GGM: Back to the music…you've been compared to everyone from Chrissie Hynde to indie legend Ani DiFranco. Have you ever seen either of the two I just named play live?
Ali: I'm a HUGE Ani DiFranco fan and have seen her several times. I try to see her every time she comes to LA.
GGM: A few years ago, about when Drew Carey replaced the retiring Bob Barker as host of The Price is Right, you appeared a few times to play some guitars that the show was giving away. How did you get that plum assignment, and did it improve on the following you've had?
Ali: I got that gig through a friend of mine in LA (the way I get most gigs). It didn't improve my following, but it did spark a manager to call me out of the blue and we worked together for about a year.
GGM: You've also had songs featured on TV shows like Sex and the City and Dawson's Creek, as well as in a few movies. How does getting a song licensed for a movie or TV soundtrack compare to, say, getting ordinary radio airplay?
Ali: You get paid a lot better! 😉 And as an indie artist, I have a much easier time getting my music into TV shows and films than getting played on commercial radio.
GGM: Earlier this year, you teamed up with the Hal Leonard music publishing firm for a book and companion CD entitled Guitar For Girls: A Beginner's Guide to Playing Acoustic or Electric Guitar. How has the reaction been to it so far?
Ali: FANTASTIC. The book has gone into its second printing, and I've just started doing clinics at Guitar Centers and independent music stores — not just for girls, but for all aspiring singer-songwriters.
GGM: Another fun question for you, Ali: When did you get to dance during a Janet Jackson performance on the American Music Awards, and did you have to audition for it?
Ali: I did NOT have to audition for it — it's actually a pretty funny story that I wrote about in detail on my blog HERE.
GGM: Finally, Ali, do you have a 4th album in the works?
Ali: Yes! I'm currently writing songs for my 4th, though I may put out a live album before the next studio album.
In addition to her Janet Jackson moment that she details on her website, www.alihandal.com, you can read about some of Ali's other experiences like, when she saw AC/DC live as a teenager back in 1984, as well as a visit she made to Australia in 2010. Also available at Ali's website are all of her albums, plus her book Guitar For Girls: A Beginner's Guide to Playing Acoustic or Electric Guitar.
You can also like Ali on Facebook at www.facebook.com/alihandalmusic, follow her on Twitter @alihandal, and watch her videos at www.youtube.com/alihandal.
Meet Ali Handal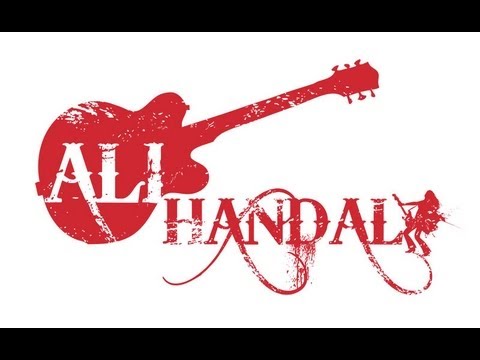 Cover Photo Credit: Ray Gutierrez